INSPIRED BY A RICH OPEN FIRES HERITAGE
PRESERVING THE OPEN FIRES TRADITION
The inception of Camelot Real Fires, as with many other family businesses, arose from the frustration of not being able to find a business that provides exactly what you are looking for. In 1970, Trevor Shaw decided he wanted to buy a real open fire with a canopy. After months of searching (without google!), his efforts turned up nothing that he felt was good enough for his family and his home. Being a skilled engineer himself, he decided to not only build his own, but to fill the gap in the market, and thus Camelot Real Fires was born.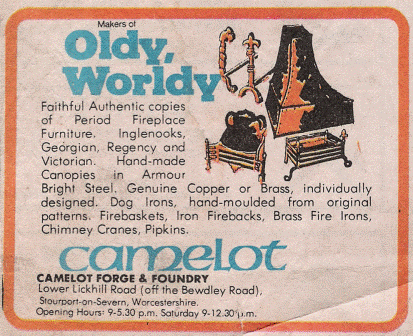 Cutting of an original advert from the Birmingham Post in 1972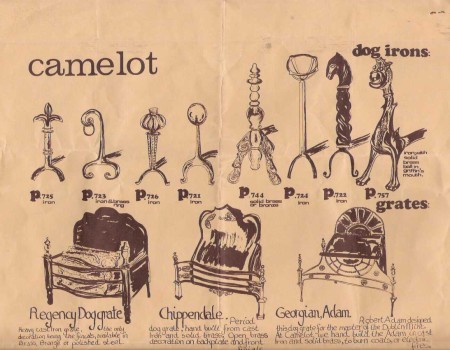 A very early (1970) Camelot leaflet hand drawn
by Trevor and Margaret Shaw
NEW DESIGNS KEEP OLD FIRES BURNING
Initially, Trevor offered traditional dog irons, fire grates, and canopies. His knowledge and passion for wood burners and fireplaces grew quickly, fast making him an expert in his field. This expertise enabled him to design the Thermovent wood burning open fire; a passive hot air convection system incorporated into the fire whist retaining its period appearance. The Thermovent fire was a game-changer, as it dramatically increased the efficiency and the versatility of open fires, allowing them to be installed in places previously unsuitable for an open fire.
I just wanted to say how pleased we are with the performance of your fire. It certainly does a beautiful job of heating the room, enhances the look of the fire place and has eliminated the problems we faced from smoke.
Nick, Vicarage, Oxfordshire.
Trust in our knowledge, experience & service
40 years in the making.
During the last 40 years, we have perfected the art of designing and creating beautiful real open fires, canopies and accessories. We've consistently provided our customers with efficient wood burning open fires in traditional or modern styles that are as individual and unique as they are themselves.
We help homeowners, pub landlords, contractors, and a varied range of customers all over the UK to realise their dream of a stunning convecting open fire, and help improve existing 'problem' open fireplaces by solving smoke and efficiency issues.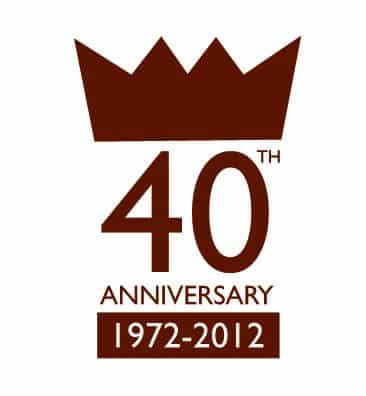 A family business
Camelot Real Fires is a true family business, and the Shaw family have a tradition of craftsmanship, creativity and design. Trevor's wife Margaret designed and crafted house name plaques and post boxes. In 2010, Trevor's son Paul took the helm, and has been running Camelot Real Fires since.
After over 40 years and 2 generations, we still maintain the values of a personal service, truly understanding our customers and working with them through the design process. We are passionate about real open fires, and creating unique and beautiful pieces which also function efficiently is still our primary driving force.
We are Camelot Real Fires, and we are here for people who, just like us, love open fires.
WE'RE HERE TO HELP WITH ALL THINGS OPEN FIRES!
Call us on 01905 820181
We love to talk open fires.
Camelot near you?
We have resellers around the UK
British craftsmanship & innovation with high performance
Looking to the future
We have embraced the latest technologies to improve the efficiency of our design processes and increase service and performance. We are working with more and more delivery partners to spread the benefits of Camelot further afield, all the while maintaining our core values and traditional craftsmanship which sets us apart.
Our second generation Thermovent high performance open fire is the best performing fire of its type. It has passed new European regulation for domestic heating appliances to carry the all important CE mark, delivering over 50% net efficiency with a rated output of an impressive 14.1kw!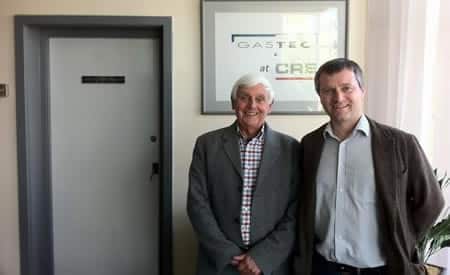 Founder Trevor Shaw with son Paul who now runs the business
after Thermovent passed its performance tests first time!