FOR PEOPLE WHO LOVE OPEN FIRES
Your open fire style (the Camelot difference)
Central to everything we do here at Camelot Real Fires are our customers. Understanding what your style is, and making that dream a reality as a working open fire is what we do.
Unique
Every customer is unique and has their own open fire style, tastes, and ideas about what their perfect open fire will look like in their home. That's why we go the extra mile by offering you access to our open fire style design service before we create a wood burning open fire that is as unique as you are. There is a charge for this service, but we offer credits if you buy a Thermovent fire.
Some customers are incredibly knowledgeable about the detail of the period their property relates to, others have a vision, and some just want us to help them create something that looks amazing every time they sit down in front of their roaring fire. From our perspective any approach to finding your style is the right one as long as it feels right to you.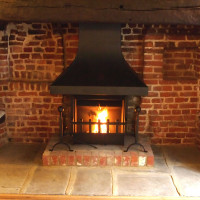 One of the key decisions you need to make about open fire style is whether it's going to be a fire or stove. Now we love stoves as efficient solid fuel burners – but let's be clear – you will never make a stove look like a period open fire and don't believe anyone who says it will. It will also have a door of some sort reducing the ambience created by the sounds, aroma and view of the flames.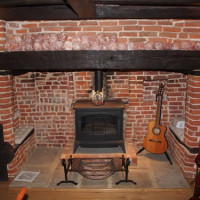 Just wanted to let you know how pleased we are with the fantastic fire you installed in our 400 year old thatched cottage recently. We can hardly believe how easy it is to light, without any sign of smoke in the room!
Paula L, Thatched Cottage, Bedfordshire.
Your Choice
Most of our Thermovent fires are created to a traditional design, but we can also offer a modern "stand out" design- Designfire.
WE'RE HERE TO HELP WITH ALL THINGS OPEN FIRES!
Call us on 01905 820181
We love to talk open fires.
Camelot near you?
We have resellers around the UK
Canopy
The canopy (or fire hood) is the most diverse and impactful element in most cases. The sizes and shapes range from compact to large, rounded or squared off, straight edges, curves, wide or tight angles. There is also a wide variety of materials and finishes available, such as steel, copper, or polished brass. These can be smooth or textured to suit the your desired open fire style.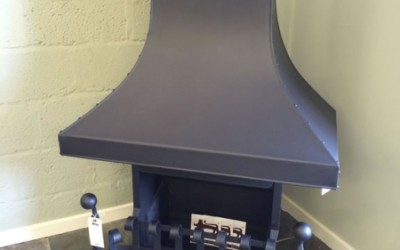 Dog irons and fire grate
Other items such as the grate front and dog irons can be designed to complement the canopy (or it can be the other way around). The thickness of the bars, the flourishes we add such as twists and scrolls in the metalwork, really add personality to each open fire we make. If we're casting in iron, brass or bronze the patterns we make can feature an unlimited range of design elements.
Whether we leave the casting polished or natural also makes a huge difference. The finished product is a beautiful and personal piece, which not only looks amazing but becomes a stunning feature in the room. Each Thermovent fire also provides an efficient heat source and wonderful ambience that can only be achieved with a wood burning open fire.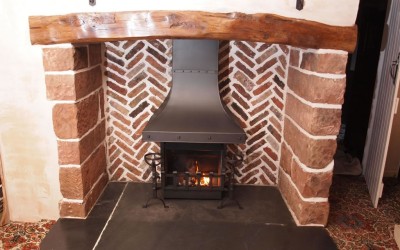 Design sketches for each fire
Throughout this process, we're available to guide you with an extensive gallery of previous work to view and choose a whole fire style or individual elements from – or even create something totally new. Often we provide our design sketch service showing your style of open fire actually in situ in your inglenook or open fireplace to scale before you make a final decision.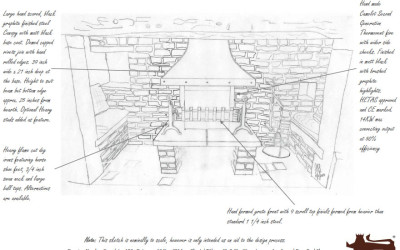 Hi Paul, our Camelot fire is proving its worth. Absolutely superb in our thatched cottage. If you need a further endorsement please make contact.
John H, Thatched Cottage, West Sussex.
Anniversary Edition – ready to go at a fixed price.
If you don't want to customise each element of your fire, and love our past work, we have combined all of the most popular choices into our Anniversary Edition Thermovent open fire. It's really popular in Inglenook open fires but also chosen for many other styles of open fireplace.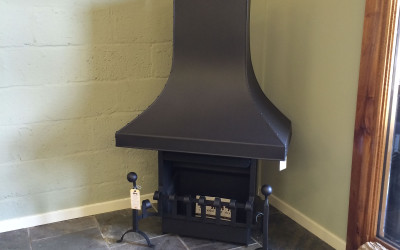 We pride ourselves on providing our customers with outstanding service and uncompromising quality, but it is the personal and uniquely styled products that our customers love the best. Because a traditional open fire would not always match the aesthetic of this type of property, we decided to come up with something that would. We called our solution Designfire.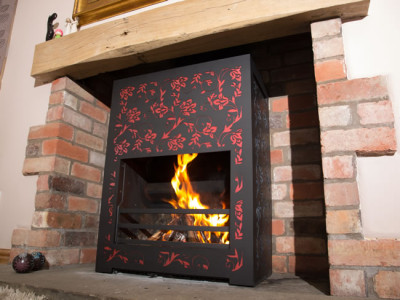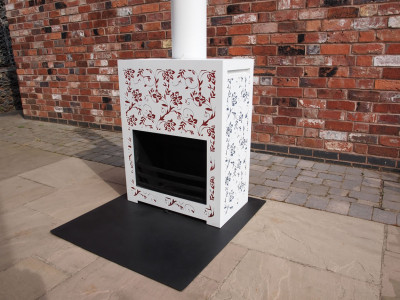 WE'RE HERE TO HELP WITH ALL THINGS OPEN FIRES!
Call us on 01905 820181
We love to talk open fires.
Camelot near you?
We have resellers around the UK
Designfire is an open fire which creates a new benchmark in design and efficiency. With Thermovent inside, it features our unique convection system to maximise heat output and distribution around the room. Designfire brings open fire design into the 21st century with its contemporary laser cut outer designs. Designfire features a dual layer metal surround available in a range of contrasting and complimentary colours, emphasised in contoured relief through one of three precision cut patterns in the outer layer, allowing the inner layer colour to be shine through.
Bespoke options
We can , if you wish, create your own unique laser cut pattern for Designfire or use one you may have, or even feature a brand / logo as the pattern. Email us or call 01905 820181 of you would like to explore this option.
Standing proud – out in the room
The result is a real open fire in a modern, customisable style, which is no longer constrained to sitting inside an inglenook. Due to its unique 360 degree design, Designfire can take centre stage as a focal point out into the room, or sit neatly in an existing fireplace, depending on your preference.