It's reported that every year between 70 and 100 thatched properties experience a serious fire. Over the last few years, thatch fires have become an increasing problem, with a large percentage of incidents being chimney related. Most often, thatch fires where the chimney is the source are associated with modern multi-fuel or wood burning closed stoves.
Experience with a sympathetic solution.
We have a lot of experience with thatched properties and would be delighted to assist you in creating a safe solution that looks great and keeps you warm with one of our Thermovent convector fires.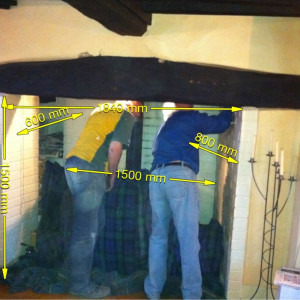 WE'RE HERE TO HELP WITH ALL THINGS OPEN FIRES!
Call us on 01905 820181
We love to talk open fires.
Camelot near you?
We have resellers around the UK
Why are thatched properties different?
Traditionally, chimneys in older thatched properties were commonly used in conjunction with open fires, rather than closed stoves. When an open fire is lit, heat from the fire travels up the chimney, drawing with it colder air from the room that the fire is located in, generating a much cooler flue gas temperature. In recent years, due to the increasing focus on energy efficiency, closed wood burning and multi-fuel stoves have become much more popular.
With the increase in heat generated by closed stoves, the risk of thatch fire also rises drastically. Research shows that on top of the obvious transmission of hot flue gases through a porous brick chimney stack, there is also strong evidence that thick layers of thatch against a chimney acts as an insulator, preventing heat from escaping through the brickwork. This can create a high concentration of heat; chimney flues from closed stoves can reach temperatures as high as 600oC, so it is very understandable that there is a high risk of surrounding thatch charring or burning.
Just wanted to let you know how pleased we are with the fantastic fire you installed in our 400 year old thatched cottage recently. We can hardly believe how easy it is to light, without any sign of smoke in the room!
Paula L, Thatched Cottage, Bedfordshire
Pubs and restaurants at greater risk.
The risk of thatch fires in properties with more than one closed wood burning or solid fuel stove is automatically higher particularly in buildings such as pubs and restaurants, where typically these heating appliances are alight for extended periods of time on a daily basis in the winter time. Although roof thatch may be damp and difficult to ignite, the heat of constantly roaring fires is sufficient to ignite even wet thatch.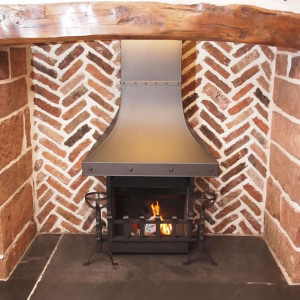 The Thermovent solution.
The simple solution to massively reducing the risk of thatch fires is to install an open fire. Whilst a grate and canopy open fires do not generate vast amounts of heat, a Camelot Thermovent open fire offers competitive performance when compared with a closed stove and they are a much safer option in a thatched building. Open fires are recommended by the National Society Of Master Thatchers.
Here at Camelot we have received direct confirmation from leading specialist thatch insurers including NFU and Weslyan that they would see a Thermovent open fire as low risk and not increase premiums, unlike stoves.
WE'RE HERE TO HELP WITH ALL THINGS OPEN FIRES!
Call us on 01905 820181
We love to talk open fires.
Camelot near you?
We have resellers around the UK
As many thatched properties are listed, it is important that any heating must serve its purpose without taking away character from the building, as is the case with a Thermovent convecting open fire. It significantly reduces any risk of fire compared to a closed stove, whilst matching the buildings character.
What about the chimney?
Whilst nothing to do with our Thermovent fire, thatches represent a further unique situation in relation to the proximity of the thatch outside an original chimney. It's unlikely such an arrangement will meet current building regulations in relations to the distance of the thatch from the heat and smoke inside the chimney. The only solution to achieve this is often to line the chimney with a rigid liner to ensure the distance is achieved. In this situation Thermovents ability to run on the absolute minimum permitted diameter flue (200 mm) means this can be achieved and still deliver good efficiency and heat output.
Work is often also required to achieve the minimum distance of 1.8 meters from the thatch for the top of the pot where the smoke exits. This is again a building regulation requirement in relation to hot embers exiting the chimney. Spark guard cowels are no longer recommended as they can block up and make the situation worse.
Our Camelot fire is proving its worth. Absolutely superb in our thatched cottage. If you need a further endorsement please make contact.
John H, Thatched Cottage, West Sussex.