STILL HAND MADE WITH PASSION
All our high-performance open fires are made by hand, but you don't have to get involved in the design of your fire at all if our Anniversary Edition Thermovent suits your taste. We introduced the Anniversary Edition high performance open fire as our only set design to mark our 40th year in 2012. Since then, many customers have chosen these for their Inglenook Open Fireplace or other styles of open fireplace design.
As with all our Thermovent high-performance fires, we suppler them with the fire itself, a canopy, dog irons, and grate front as a complete suite ready for installation. It's CE marked so any approved installer near you can install it.
As there is no design work involved, all you need to do is check the dimensions shown below to make sure it will fit into your fireplace (the canopy can be cut down to height by the installer or we can add an extension if its not tall enough), then place your order. Delivery is typically 4-6 weeks but we will confirm this at the time of your order.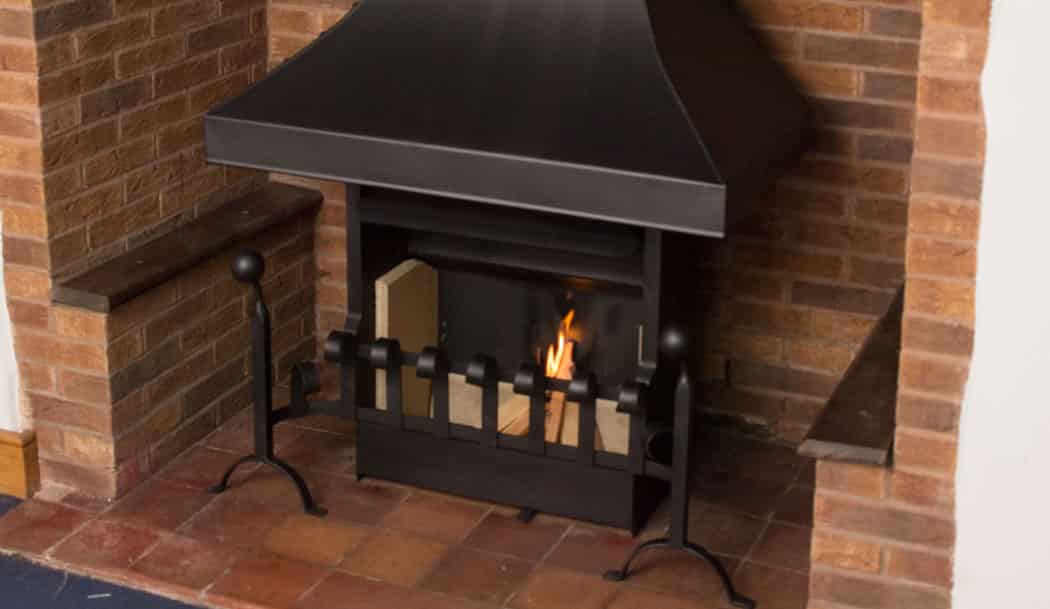 HIGH PERFORMANCE BUILT IN
As with all our Thermovent fires you get high performance built in. Its the most efficient high performance open fire available in the UK and will give up to 14.1KW of heat output if required. As a convecting open fire, Thermovent shares the heat it generates much more effectively than normal open fires and many stoves by pushing the hot air passing through its 7 heat exchange chambers back out into the room – which means that heat isn't going up your chimney. With a flue baffle built in it also means you can stop the warmth from your other heating systems going up the chimney when the fire isn't lit.
Paul, just thought I would send you an email to let you know how we are getting on with our fire. We LOVE IT! It lights easily and throws out lots of heat. The instructions were a great help and has taught me how to lay a good fire! I also love the fireguard and feel completely confident leaving the fire unattended.
Nick, Oxfordshire
HANDMADE BY OUR CRAFTSMEN
Whilst we use technology to ensure the accuracy and integrity of the fire itself, all our canopies, dog irons and grate fronts are crafted by hand using tradtional skills in Worcestershire.
Hand scored steel canopy.
The canopy on our Anniversary Editon Thermovent high performance open fire is made from sheet steel which is cut and hand formed to create the distinctive shape of our canopies.
Hand rolled seams are used to join the panels together with rivets using domed caps. A steel bar is rolled into the bottom edge to ensure its straight and holds the shape of the canopy at the base.
The steel is then handscored before a heat resistant undercoat is applied followed by the grate polish. This gives the traditional gun metal fireplace appearance – and is easily maintained.
Hand forged dog irons.
The dog irons featured with our Anniversary Edition high performance open fire are based on a style that has proved poplular with our customers over many years. Hand forged using tradtional blacksmith techniques, each dog iron features a horse shoe foot, solid 1 inch square bar stem with a round bar swan neck topped with a small cannon ball. The design has plenty of features to make it interesting but without contrasting too much with other designs that may be present in the open fireplace.
WE'RE HERE TO HELP WITH ALL THINGS OPEN FIRES!
Call us on 01905 820181
We love to talk open fires.
Camelot near you?
We have resellers around the UK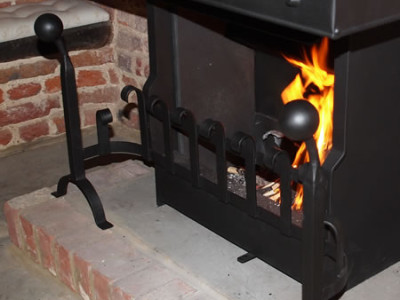 The grate front links the dog irons to the main Thermovent fire and keeps burning logs within the fire whilst letting you see the flames and allow air into the fire to burn. We have created many different types of grate front but the flat bar with scroll top has always been popular. Made from 1 ¼ inch flat bar each scroll is handforged with a flattend & splayed tip.
Key details about the Anniversary Edition open fire
The dimensions and information below should allow you, or a local installer, to check that an Anniversary Edition Thermovent open fire is right for your open fireplace. If there's anything your not sure about please don't hesitate to get in touch. Remember, we make many of our fires to sizes and specifications to exactly meet customer requirements – so if the sizes don't suit, its not a problem – we can make a Thermovent that will fit your open fireplace. Just get in touch and we can take it from there.