PRESERVING THE OPEN FIRE CANOPY TRADITION
Almost all our Traditional Thermovent fires feature a hand made fireplace canopy, dog irons and grate front, but we also make these items individually for some customers. All the choices on this page apply to our Traditional Thermovent open fires also.
Fireplace Canopies
A stand-alone fireplace canopy (not part of a Thermovent fire) is a working element of the fire and has more restrictions on its size and proportions if it's going to work as required.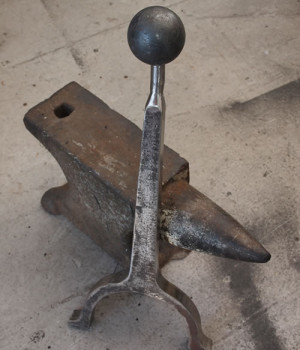 Dog irons
Fireplace dog irons were originally used without a basket to rest log on so they burned more easily. Their use with fire baskets was a decorative carry over and a way to carry the fire grate or basket off the ground. We feature them on almost all our traditional Thermovent wood burning open fires.
Fire grates or baskets
These were really only introduced when people started to burn coal in the cities during the industrial revolution. Unlike wood, coal fires need air underneath through a slotted grate to burn well.
Call us on 01905 820181
We love to talk open fires.
Camelot near you?
We have resellers around the UK
The majority of our fireplace canopies are hand formed from 0.7mm sheet which allows us to create the flowing curves you can see. Thicker materials would make this very difficult. The seams on our canopies are hand rolled and joined with rivets featuring domed caps typically but there are other choices. The bottom edge of all our open fire canopies features a hidden round steel bar rolled into the edge to give a nice clean, straight edge but also give your fireplace canopy rigidity.
Style is the first decision regarding an open fire canopy. Below are sketches of some of the most frequently requested traditional styles of canopy. We do however make canopies to customers exact specification if feasible. To see images of many of the fireplace canopies we have made a visit the gallery section.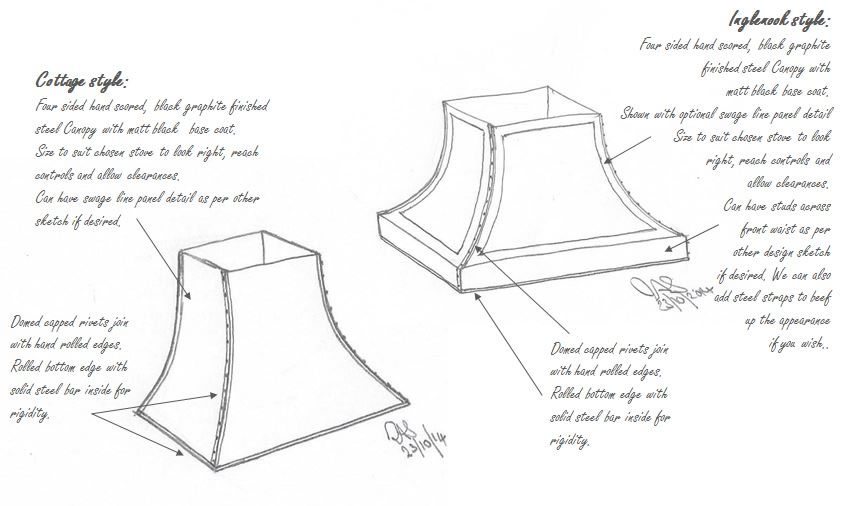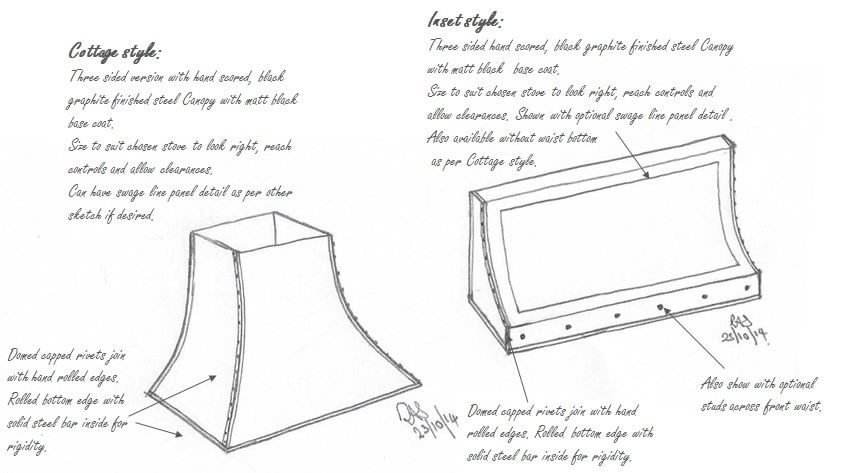 Hi Paul, sorry I couldn't spend more time, hope Madge (the awesome Bulldog) let you leave the house without too much bluster!
The fire is wonderful, worth every penny! Best wishes to you and your Father
The most popular materials for fireplace canopies are steel, followed by copper or brass. We also make canopies in stainless steel.
Hand scored mild steel with heat resistant matt black undercoat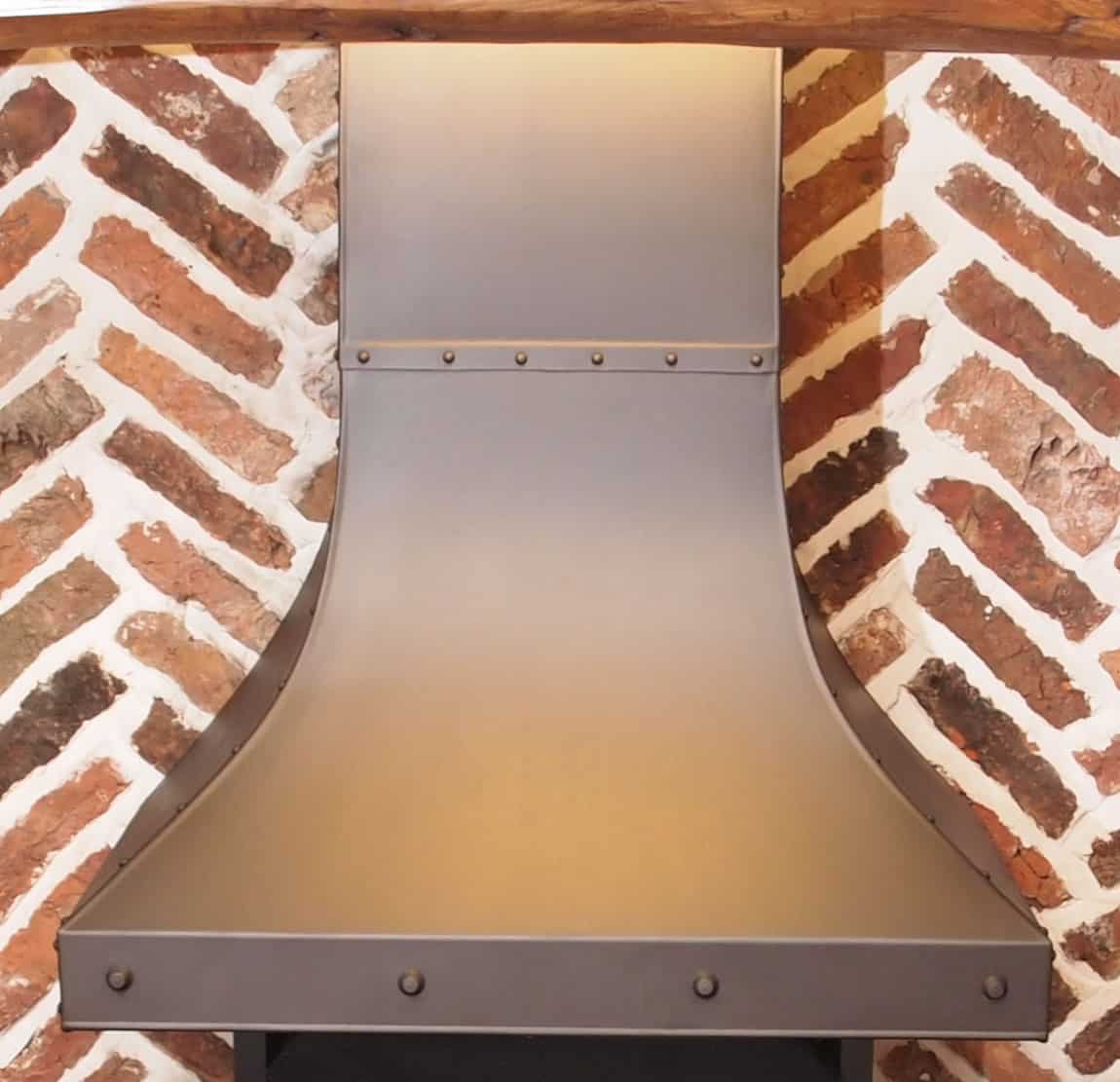 Un-coated hand scored mild steel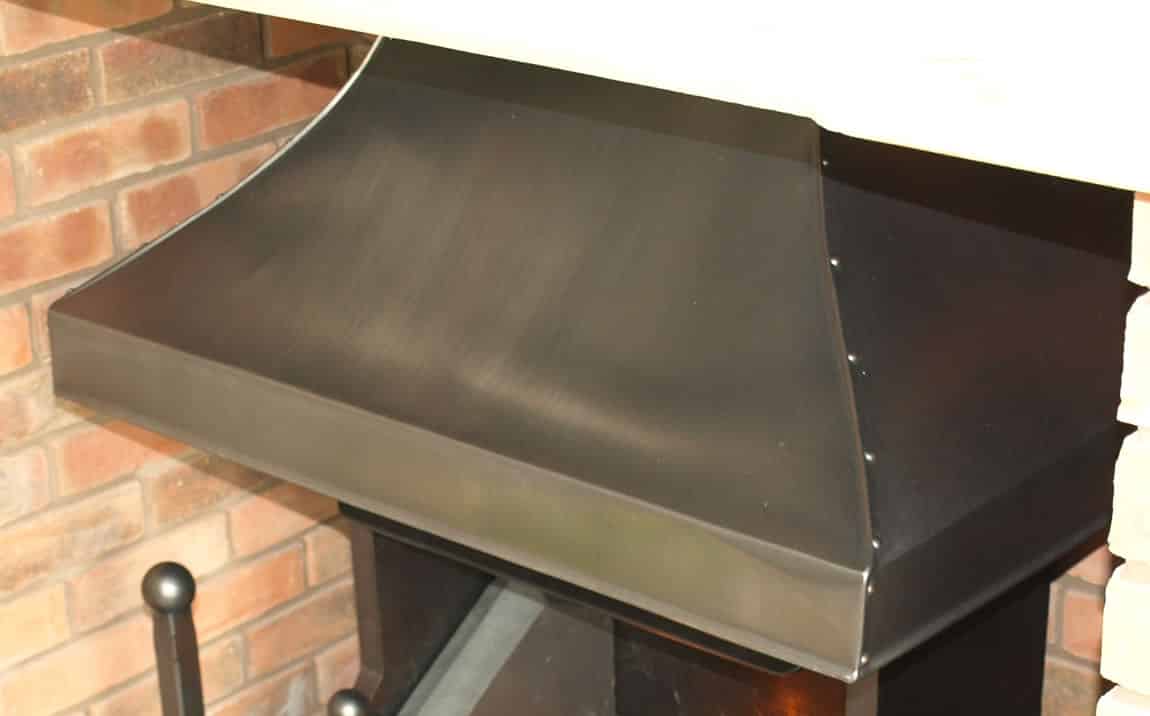 Polished solid brass sheet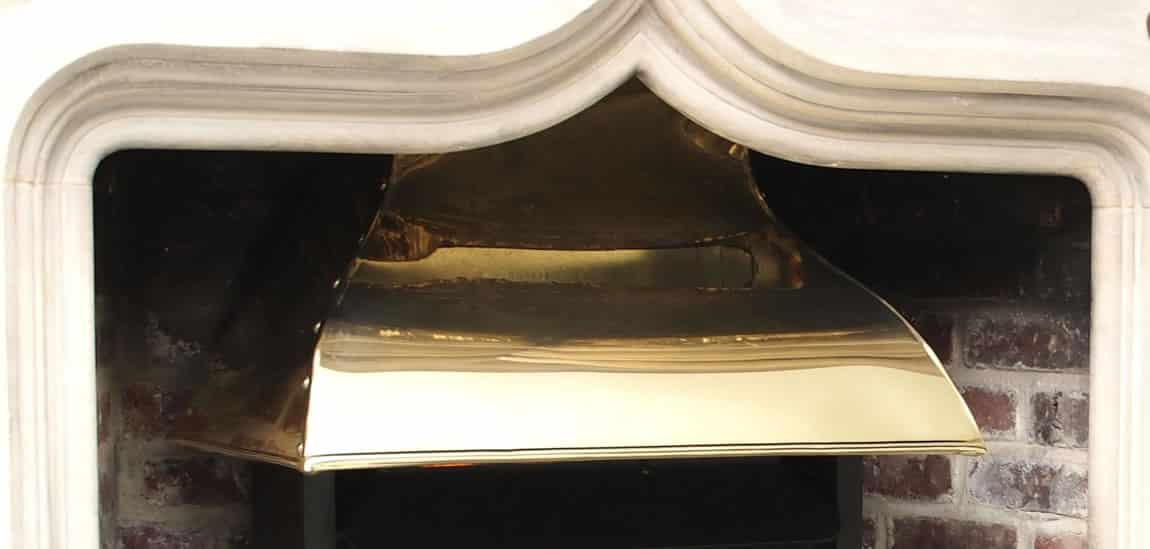 Polished solid copper sheet (shown hand beaten)
Canopy finishing details:
Finishing details mainly apply to the appearance of the canopy but there are some functional items also. Below are some of the most frequent choices, but there are many more.
Decorative join
A decorative join can be added either as a feature in its own right or to break up the height on a tall canopy.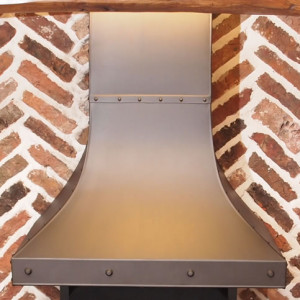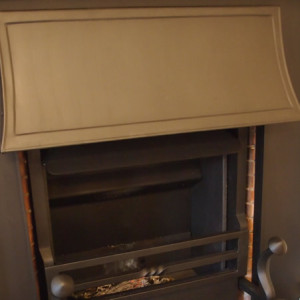 Swage line panel detail.
Swage lines can be added to any fire canopy. The mark our the profile of the canopy more clearly and add detail in a discreet way.
Studs or other detail on the waist
Where a fireplace hood canopy has a waist panel at the base it's possible to add studs in a variety of materials and designs to suit your taste and link into the fireplace dog irons, fire grate or open fireplace.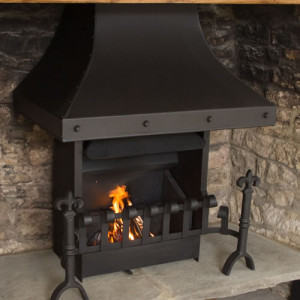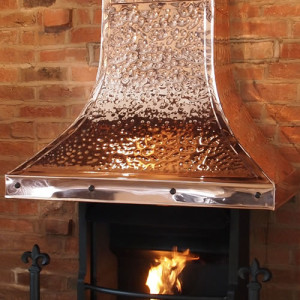 Hand-Beaten Fireplace Canopy (copper generally)
A traditional way to treat copper was to beat it by hand. It encourages the light to bounce off the surface in different ways. We do this often for clients who choose copper and have also done so with brass. It's not possible on steel by hand as it's a less malleable material and tends to just look beaten up.
Flue baffle control.
A fireplace canopy creates an open vent up the chimney if its not part of a Thermovent open fire which includes a flue baffle. To reduce heat loss from your other heating systems (radiators or underfloor heating) we can include a flue baffle control to close off the chimney when the fire is not in use. It cannot be used to control the fire when it is lit.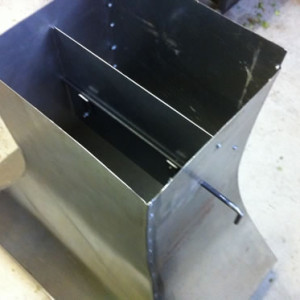 It lights easily and throws out lots of heat, the booklet was a great help and has taught me how to lay a good fire. I also love the fireguard and feel completely confident in leaving the fire unattended.
The fire has transformed the room and also changed the way we use the house – we all sit in the drawing room in the evening – the dogs have the best seat right in front of it.
Thank you for everything, and for your persistence from my initial phone call all that time ago!
Dog irons and fire grates were in the past usually created as a set, though often not a single unit. This means the grate or basket in an old fireplace may have been replaced at some point but the original dog irons kept. We make both styles depending upon a customers preference and the size of the fireplace.
Regarding size, it's worth bearing in mind that the fireplace canopy size is dictated by the chimney dimensions and the grate size is defined by the canopy. Also, a big grate needs big logs to fill it or you will have a small fire in the middle of a big grate.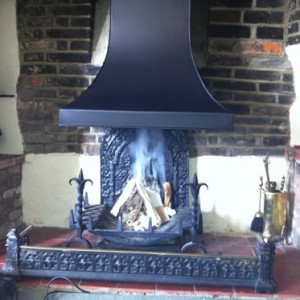 Which style Dog iron or fire grate?
Separate dog irons and swans nest grate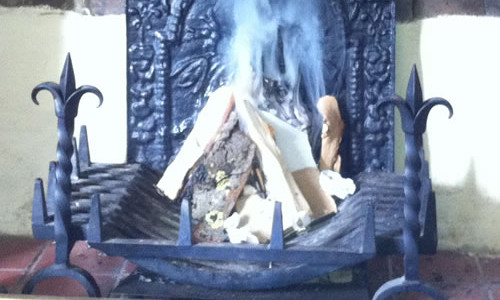 An integrated fire basket.
Vertical grate bars (in this case with scroll tops)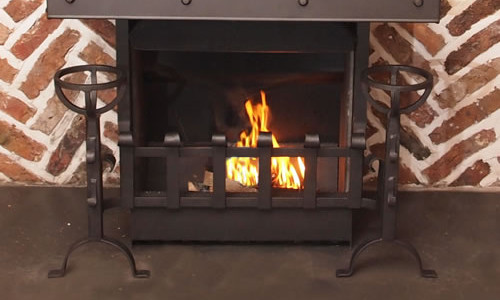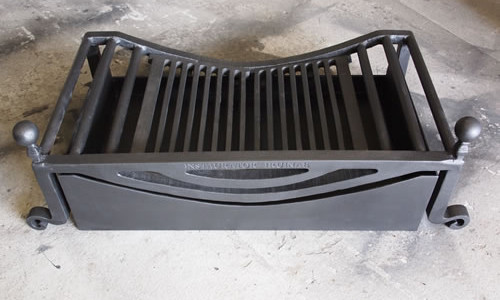 Dog iron or firegrate materials
Camelot fire grates and fireplace dog irons are either hand forged or hand cast at foundries in the Black County using our own patterns. Sometimes we use a combination of both. The style tends to direct the material, but sometimes customers prefer the rugged finish of hand forged over castings.

Examples of a hand forged dog iron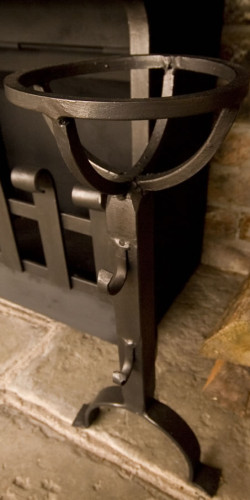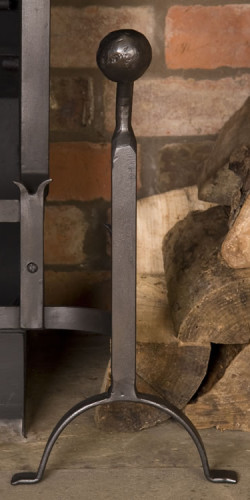 Examples of a hand cast dog iron.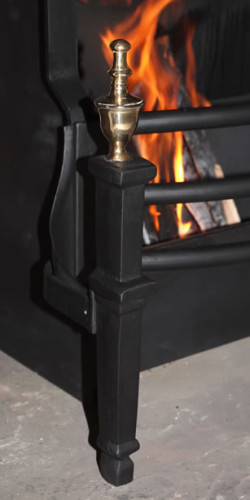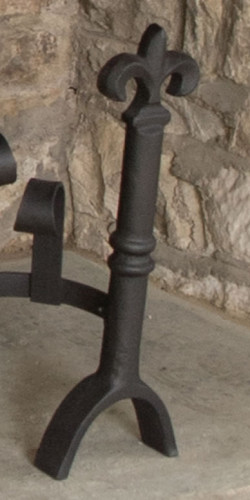 Call us on 01905 820181
We love to talk open fires.
Camelot near you?
We have resellers around the UK
Design detail on the fire grate bars
To see some of the more popular choices visit the Fireplace Dog irons, Open fire Canopies & Grates section of our pricing page. Below are some examples.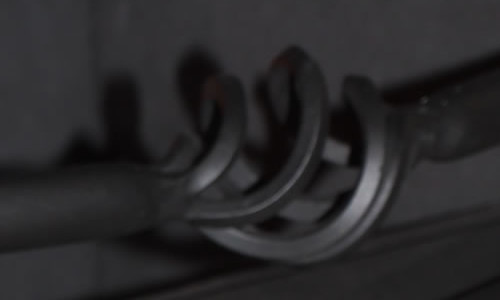 Integated dog irons and basket.
You will see many images of fireplace dog irons and grate designs we have made as part of Thermovent fires across this web-site including in our gallery section. Below are some images of fire baskets with integrated legs and firebacks as examples of the kind of items we can create.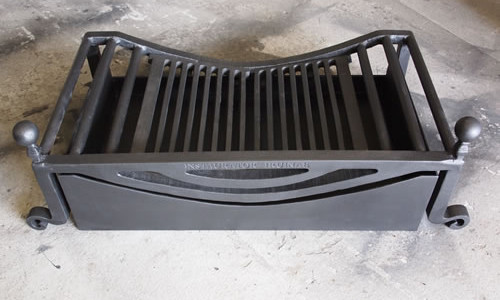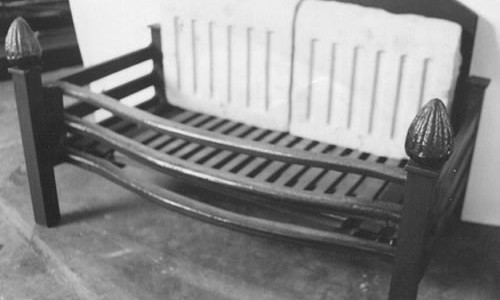 Traditional Fire Basket With Bud Top Finials and Three Bar Cast Iron Grate Front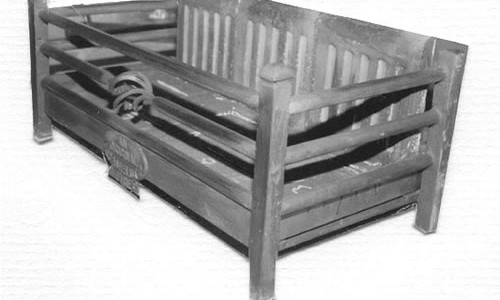 Traditional Hand Forged Fire Basket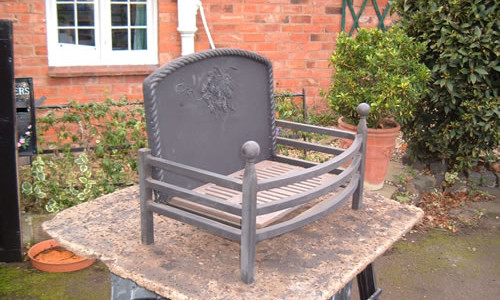 Traditional Handmade Fire Basket With Integral Cast Iron Fireback