British craftsmanship & innovation
In this age, anyone still earning their crust hand forging steel, or in a jobbing foundry, or forming sheet metal by hand is in itself a sign of the passion these people have for what they do. We're not talking hand based repetitive production – this is real handmade where, every job is different so requires thought, patience and experience to realise the end result.
The passion Trevor Shaw had to start Camelot Real Fires was born from his desire to have a real open fire – not gas or electric as was so popular in the 1970's. That passion still burns strong today in the way Paul Shaw, Trevor's son, now runs the business.
Personal attention
Paul is involved in every fire we make in detail. He is the main contact for all our customer conversations and he carries out many customer design surveys in person. He quality checks the welding and assembly on every fire we make and often makes or hand finishes our canopies and fire grates. All this means he knows every inch of every fire we create, in person, and what the original aspiration each customer had for their fire.
MADE HAND BY HAND FOR EACH CUSTOMER
The skills and techniques we still use today were developed before and during the industrial revolution. They were often practiced in small local businesses and the knowledge was developed and handed down from generation to generation using the apprentice system.
All our fires are hand made by craftsmen in Worcestershire, in the UK.
We hand forge many of our dog irons and grate fronts from raw bars – not mass produced components welded together.
Blacksmith and forge work was the foundation of the industrial revolution in the UK, but today it's a rare craft that's mainly preserved in a narrow form with farriers, but also artisan blacksmiths and a few commercial Blacksmiths. And at Camelot Real Fires!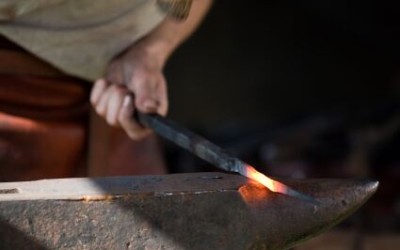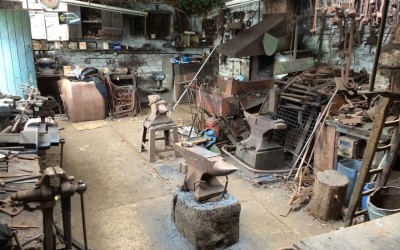 HAND CASTING IRON, BRASS OR BRONZE
At Camelot we understand the pattern making so we often make these ourselves to designs agreed with the customer.
We use a range of jobbing foundries in the Black Country, the heartland of the industrial revolution, for our castings. We often do the finishing work ourselves also.
HAND FORMING AND WORKING SHEET STEEL, COPPER OR BRASS
If you've seen a few canopies you may have seen how varied they are in terms of appearance and construction. They range from almost agricultural, through fabricated, to designer. Trevor Shaw decided right from the start that using heavy gauge steel to allow welded joints would not allow the flexibility in shape that he felt was so important in a canopy. That's why we use traditional panel beating skills to form our canopys from the thinner gauge materials using hand rolled seams and rivet joins in the main.
Paul and Trevor are determined to preserve the tradition of making genuine open fires using original techniques and materials. We also believe in harnessing new technology in terms of materials, processes and design where it improves quality and creates new opportunities for our customers.
Innovations you can see over the last five years have been:
The total re-design of the second generation Thermovent convector fire in 2011 to achieve HETAS and CE mark accreditation.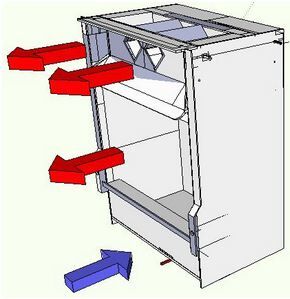 Cutting and folding the heavy steel plate we make our Thermovent fires on laser cutting machinery which gave us the consistency of quality required to achieve HETAS and CE mark approval but preserves our ability to produce in small numbers.
High performance heat resistance finishes for our main Thermovent fire to give better finish and performance.
The use of new software to undertake surveys, carry out our design sketches and communicate with our customers.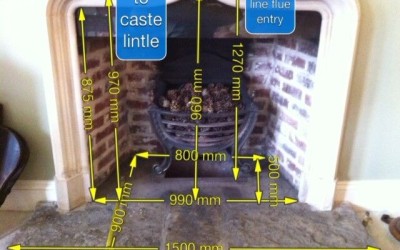 Open fires specialists
Hand Made with Passion